| | |
| --- | --- |
| Here is everything you need to know about Killer Cuomo | |
Politics
Political discussion will only be allowed in here.
Likes:
0
09-11-2020, 10:34 PM
Here is everything you need to know about Killer Cuomo
---
Now that we know the Greater New York Hospital Association had a hand in New York's policy compelling nursing homes to accept COVID-positive patients, let's review GNYHA's recent history with the Cuomo administration ...
In March 2018, Cuomo pressured the state's Catholic bishops to give up $2B in proceeds from the sale of Fidelis Care health plan. The money went into a "Health Care Transformation Fund" to be spent at the governor's discretion during an election year.
A troubling deal on Fidelis - Empire Center for Public Policy
That summer, GNHYA poured more than $1 million to Cuomo's re-election campaign, exploiting a loophole that would keep the donation secret until after his inauguration.
Following the money - Empire Center for Public Policy
Just before Election Day, in spite of a ballooning but undisclosed deficit in the state's Medicaid program, Cuomo quietly ordered a Medicaid rate hike for hospitals and nursing homes, which had been a top lobbying priority for GNYHA.
Cuomo's stealthy boost for 1199 - Empire Center for Public Policy
An internal DOH analysis made clear that the rate hike was targeted to help GNYHA members settle their newly negotiated contract with the health-care workers union 1199 SEIU, another Cuomo ally.
Who benefited from Medicaid hikes? - Empire Center for Public Policy
By early 2019, unbeknownst to the public, New York Medicaid was running well over budget. Rather than closing the gap, which might have entailed lower payments to GNYHA, Cuomo secretly delayed $1.7B in payments to the next fiscal year.
Cuomo's $1.7B Medicaid mulligan - Empire Center for Public Policy
Although the delay immediately threw the new budget out of balance, the Cuomo administration didn't disclose what happened until months later, by which time it had spawned a $4B deficit.
https://www.empirecenter.org/publica...licted-crisis/
When he finally moved to contain costs in early 2020, he turned the job over to a Medicaid Redesign Team cochaired by Michael Dowling of Northwell, a top official of GNYHA and long-time Cuomo adviser, as well as former 1199 chief Dennis Rivera.
https://www.governor.ny.gov/news/gov...design-team-ii
The MRT was still deliberating when the pandemic hit. In mid-March, as newly reported by WSJ, GNYHA lobbied the state for a policy requiring nursing homes to accept COVID-positive patients. DOH did just that on March 25.
wsj.com/articles/cuomo-covid-new-york-coronavirus-de-blasio-shutdown-timing-11599836994

GNYHA also successfully lobbied for a last-minute provision of the new state budget that would sharply limit the ability of coronavirus victims to file malpractice suits against hospitals, nursing homes and other providers.
https://www.newsday.com/news/health/...rus-1.46143362
In July, DOH issued a report dubiously arguing that the March 25 order was not a significant factor behind nursing home deaths.
empirecenter.org/publications/cuomo-admin-ducks-important-questions-on-nursing-homes/
Dowling, a GNYHA board member, vouched for the findings in a DOH press release.
health.ny.gov/press/releases/2020/2020-07-06_covid19_nursing_home_report.htm
https://www.empirecenter.org/publica...nursing-homes/
Most recently, GNYHA has provided the governor with millions of dollars worth of TV exposure by featuring him in an ad campaign that touts the state's success in controlling the pandemic and encourages NYers to seek hospital care.
youtube.com/watch?time_continue=2&v=gJw7UmXmvIA&feature=emb_lo go
GNYHA's influence extends well beyond Albany. It's also one of the top donors to Chuck Schumer's Senate Majority PAC and reportedly played a role in killing a congressional ban on "surprise billing."
https://opensecrets.org/outsidespend...rprise-billing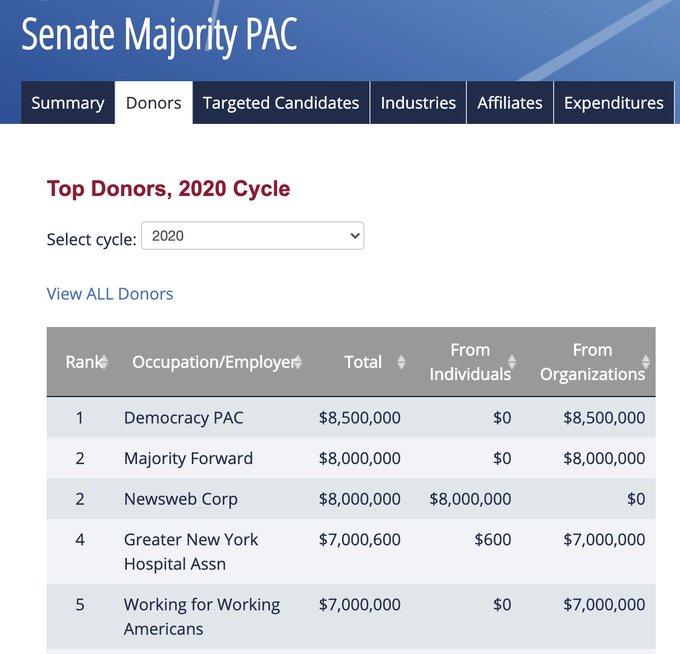 09-11-2020, 10:36 PM
All the proof in the world why this scumbag should be locked up for the rest of his pathetic life.
Posting Rules

You may not post new threads

You may not post replies

You may not post attachments

You may not edit your posts

---

HTML code is Off

---
All times are GMT -5. The time now is
05:19 AM
.